Joe Thompson v. Walter Clarke. Probate Notes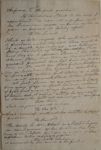 Answers. To the first question
If the Widow stands to the will I apprehend she cannot interfere with the Provision made in favor of the negroes or prevent its taking effect.
To the Second
I think as to the negroes who will be entitled to freedom under the will there ought to be a double appraisment one Column stating the value of them as servants for the time they are to remain slaves. the other column stating their value as they ought to be appraised provided there had been no provisions in the will for their future freedom for as to[?] creditors[?] the Executor would be answerable to their full value as a Testator cannot manumit slaves to their [illegible]
All such slaves as are upwards of forty five years of age or shall become upwards of forty five years of age before their time of labour would expire are to be appraised as slaves. the will not operating in their favor.
To the third
Such negroes cannot be free.
To the 4th
Such increase will not be entitled to their freedom
To the 5th
The devise[?] to Mrs Abeal is a lapsed legacy in consequence of her Death in the life time of the Testator and goes as a part & the residuum to the residuary Legalee.
The sixth Question
is answered by the answer to the first—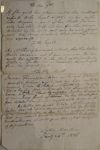 To the 7th
If she quits her claim under the will and resorts to her legal eighth. as far as she takes negroes in part of her third she can only take them to serve her for the pound, directed by the will. and can be only changed with the value to which [illegible] period of service [illegible] are apparaised.
To the Eighth
As Mr Thompson made a will, she the widow should renounce yet I am opinion she can only be entitled to the third of the personal Estate. the question is however depending before the General Court.
To the Ninth
James Thompson takes[?] in the real Estate deceased[?] whom an Estate for Life with [illegible] Estate to this first Charles son he may have by his present wife. Should he have no such son, but Daughter he has the period[?] of appointing such of his children as he thinks proper to take the same agrreeable to the will
As to the personal Estate Mr Thompson takes the [illegible] of the personal Estate for his life if he should have a son by his present wife that son would probably be entitled to it after her death. or it will go in the usual course of distribution
Luther Martin
Jany 29th 1805