Violet v. Henry W. Ball. Defendant's Interrogatories to Elizabeth L. Jones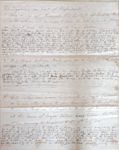 1. Was or was not Emanuel the husband of Violette & with whom did he live & how far did he reside from Mount Zion, the residence of Major Gordon.
When Elizth L. Jones—first saw or heard of the petitioner Emanuel he was (or said to be) the property of a widow Routt—of North. Virginia whoes Daughter Catherine Routt—married William Claughton of said county—and Emanuel—the became the property of Mrs Claughton—whoes second marriage—was with one Captain Blackwell—and whom died shortly after sd marriage—(that is within twelve months—) in the Autumn of 1811—leaving two Daughters by her first marriage—and two infants by her last—Emanuel—was considered the property of the orphans above mention'd—But how that business was conducted—Elizth L. Jones does not know—and only adds—that Mr Blackwells— residence from Mount Sion was about 3 miles—where Emanuel lived during her life time.
2d. Did Major William Ball ever see or find Violette before the 9th July 1811?
Elizth L. Jones—did not hear of Major Balls making any inquiry about Violet—altho he was at Mr Gordons before the 9th of July 1811 and after Violet was initiated as a domestic in Mr Gordons family— who was passing about the House without any issue respecting who sh- see her—
3d. Was notice ever given by yourself of Major Gordon or by any other person to your knowledge to the defendant Henry W. Ball or to Major W Ball of Violette being at the house of Major Gordon being between the time of her coming to Virginia & the 9th July 1811.
It never occur'd to Elizth L. Jones—as being necessary for her to give notice to Henry W. Ball—that Violet—was employed as a Domestic in the family of William Gordon—Nor does she suppose that Mr Gordon, or any other person deem'd it necessary—as he had made it an object of special business to see Major Ball—on the subject of Violets being for sale—Therefore there was nothing to give notice to Major Ball—about Violet—as he must have sanction'd her going to Mr. Gordons in the Capacity of a domestic in that gentlemans family.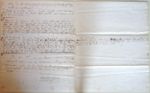 4. When did Violetts return to the city of Washington with her children?
Early in October 1811— Violet together with her two children Winifred & Chloe left North. and return'd to the City of Washington.
× Elizth L. Jones— heard Mr William Gordon observe one morning, at Breakfast—, to Mrs Gordon that he shd. go that day, to see Major Ball suspecting Violets being for sale—and if she was that he sd. endeavor to purchase her— Mr Gordon left Home that day as he had mention and some short time after that— (perhaps the same week) Violet and her children— Winifred & Chloe arrived at Mount Sion and Violet was initiated into the service of Mr. Gordons family
× Mr H W Ball did not deny (having sent Violet & her children to Northumberland for his Brother Major William Ball to dispose of them by sale— But to whom or where he was instructed to sell them is impossible for Elizth L. Jones to say as she has before & herein stated.—) Jones conferred with him on that subject—) and as to her making any inquiry of him whether his brother— was acting agreeable to his instructions or not—Elizth L. Jones having no reason to doubt it— there fore— did not ask H W Ball whether he did or did not—nor did he take occasion— to say— that he [illegible] his Brother— yet the presumption was that he did— But certain it is— that he did not deny it, [illegible]
On this 3rd day of June AD 1814 Personally appeared before me the subscriber, Elizabeth L. Jones & made oath to the truth of the answers to the Interrogatories proposed on the part of the Petitioners Defts.
Sworn before me—
Daniel Rapine