Sally Henry v. Henry W. Ball. Bill of Exceptions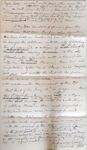 Mem. on the trial of the cause the Dft Petn offer'd in Evidence the depn of Mrs Rankin in these [illegible]) whereupon and thereupon pray'd the Ct to instruct the Jury that if &c (here insert Mr Key's prayer) which instruction the Court refused to give but whereupon the Ct instructed the Jury that
If they Jury should be of opinion from the Evidence that Mrs Rankin, whose deposition has been read in Evidence as aforesaid was, at the time she brought the petitioner into the city of Washington as aforesaid, a citizen of the U.S. a she one of State of Virginia United States coming to reside into the city of Washington aforesaid, with a bona fide intention of settling to reside therein, then her said importation of the said Slave was lawful and did not [illegible] the Petn to her freedom whether the said importation were or were not made with the consent of the Dft. But that if the Jury shd be of opinion that she sd Mrs Rankin was not not a citizen of the U. S. District of Columbia U.S. coming into the sd city of W. to with the intention of settling therein, then such importation of the said slave was unlawful and entitles the Petitioner to her freedom; whether such importation were or were not with the consent of the Dft.
To the first part branch of which instruction made by Petrs counsel [illegible] the refusal of the Prayer the Petitioner excepts, and to the second branch thereof the Dft excepts, and this their part and several bill of exceptions is signed sealed and enrolled.
W. Cranch (seal)
B. Thruston (seal)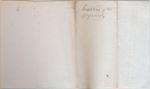 If the Jury believes from the evidence that the Deft knew of the intended importation of the Petitioner by Mr Rankin & did not object to it then such importation by Mr Rankin entitles the petitioner to her freedom. Further it is competent to the Jury to infer from the his knowing of the importation & not objecting to it that such imporatation was made with his consent.
(refused)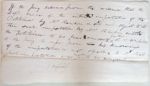 Exceptions of Pet. & Defendant