Sally Henry v. Henry W. Ball. Deposition of Elizabeth K. Rankin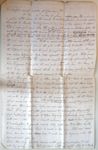 On this 3rd day of June before in the subscriber a justice of the peace for the county & districts aforesaid personally appeared Elizabeth K Rankin & being sworn in due form of law deposed & said
That a negro girl named Sally then quite a child was a short time before the month of May 1810 sent[?] to live as a matter of favour with the deponent then[?] residing in on a visit to Virginia where the deponent lived on said visit for two years with her mother safe but they by Mr Henry W Ball, who also resided at that time in Fairfax County Virginia when the said negro girl was about 9 miles from Washington. That in consideration of the services of the girl this deponent was to furnish the girl with victuals & cloaths; & that this deponent was to keep the girl for a year, but no particular bargain was made between Mr Ball & the deponent about the girl; That some time in the month of May in the year 1810, this deponent removed to the city of Washington from Virginia & brought the said girl Sally with her; Mr Henry Ball being as this deponent thinks in Northumberland county in Virginia at the time of this deponent's removal to Washington.
Quest. Did you ever ask or obtain permission of Mr Ball to remove Sally to Washington? Ans: I cannot recollect, but Mr Ball was frequently in the habit of coming to our house, & probably heard of our intention to remove to Washington. But she I do not know whether he gave was ever asked or gave permission for that removal of Sally. At the time of our removal Mr Ball was to the best of my recollection in Northumberland county Virginia, & had gone there some time before our removal.
Quest. Did you not after your removal to Washington frequently pass backwards & forwards to & from Virginia, & generally carry Sally with you. Ans: I did in several instances pass back to & from Virginia to Washington, & generally carried Sally with me. & on these visits to Virginia, sometimes stayed a week or ten days. Sally once ran away from me while there here. & went over to Virginia where the deponent sent after her.
Quest. How long did Sally remain with you in Washington, & who took her away. Ans: Sally remained with me until after Mr Ball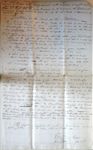 married which was in October 1810 (having remained with me seven or eight months when short time after his marriage Mr Ball took her away & carried her to Virginia, the Deponent conceiving herself bound to give her up to Mr Ball whenever he called for her.
Questions on the part of the Petitioner.
1st Did or Did not Mr Henry Ball to the best of your knowledge and belief know of your intention to return to the City of Washington & to bring Sally with you? Answers she cannot say possitively but she rather imagines he did.
2. Did or Did not Mr Ball shortly after you had brought Sally to the City see you & her there? And did he make any objection to her having been brought here or remaining here? Answers he did & made no objection.
3. How far did Mr Ball live from your mother's in Virginia? Answers a mile or two.
4. Did you or did you not know of Mr W H. W. Ball's ever residing in Vir Washington till after his marriage? Answers she He did not reside here till after his marriage — though he was frequently here.
5. When did was your Husband during the period of your aforesaid stay in Fairfax?
Answer This Deponent's husband was an Officer in the Marine Corps stationed in Washington where he was the greater portion of his time & which he only left on obtaining leaves of absence, keeping no house in Washington but living when in Washington in the marine barracks, nearly all his clothes being in Virginia & he contributing to the expences of the family in Fairfax, & visiting in Fairfax sometimes every week sometimes not so often & sometimes staying 6 or 6 weeks together. Before Until the period of the visit the Deponent & Mr Rankin had lived in Washington.
This Deponent always contemplated returning to Washington but did not suppose it would take place till late in the year, but Mr Rankin having obtained an appointment, they were induced to return earlier.
This Depn is agreed to be read in Evidence as far as admissible. in the case Sally vs Ball.
F S Key for Petnr
J Law for deft