Esther Bradley v. Elizabeth Wilson. Petition for Freedom (Copy)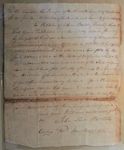 The Petition of Esther Bradley humbly sheweth, That your petitioner is unlawfully held in slavery by Elizabeth Wilson administratrix of Alexander Wilson deceased, and that she is entitled to her freedom, inasmuch as she was bought by the said Alexander in the State of Virginia, while the said Alexander was a resident of the State of Maryland, & brought shortly after into this County of the District of Columbia, then under the Jurisdiction of Maryland, contrary to Law. Your Petitioner therefore prays that your honors will take her case into consideration, and take such steps for the examination & trial of her claim, as to your Honors will seem lawful and proper.
And your Petitioner will ever pray &c.
John Law Petr Atty
Copy Test. Wm Brent Clk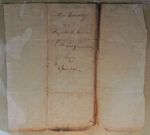 Esther Bradley
vs
Elizabeth Wilson
Petr for freedom
Copy
8 June 1795.