Mima Queen v. John Hepburn. Petition for Freedom
The petition of Minor or Mina Queen & Louisa her child of Washington County humbly sheweth that your petitioner & her said child are entitled to their freedom & are unjustly held in bondage by a certain John Hepburn of Washington County as slaves. Wherefore she prays your honors to grant her relief in the premisses & as she apprehends that she may be removed out of the Jurisdiction of this Court before the next term thereof, she prays that subpoena may issue to the said John Hepburn retble immediately.
FS Key for Petr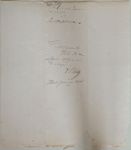 240 207.
Minor Queen & child
vs.
Jno Hepburn.
Mr Brent
File it & issue sbpa as prayed.
FS Key
filed 8. January 1810.