Ben v. Sabret Scott. Petition for Freedom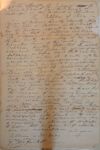 The Petition of Ben (a man of colour) humbly sheweth that he has filed a Petition in the Court for his freedom against a certain Sabritt Scott, & that a subpoena has been issued thereon & he believes served on the said Scott, returnable to the next December Term of this Court. Your Petitioner further states that he seriously apprehends that before the return of said subpoena & before said Scott can be compelled under it to enter into the usual & proper recognizance, he may be removed by secret & unjustifiable means without the Jurisdiction of this honorable Court. Your Petitioner being still held in the possession of said Scott & the said Scott owning & trading with vessels to the West Indies & other places, & your Petitioner being one of his Mariners, he fears that the means of removing him being so obvious & easy the said Scott will avail himself of them.
Your Petitioner therefore begs that this honorable Court will interfere the prevent that said Scott may be compelled by a subpoena to appear & recognize with security in the usual manner, or that subpoenas may issue to compell the attendance of witnesses to prove that his grounds of apprehension are reasonable.
And your Petitioner will pray
F S Key for Petr.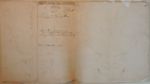 121. 119.
Ben
vs.
Sabritt Scott
Peto.
Let the subpoena issued against Scott, to recognize &c returnable immediately
Filed 8th October 1806