Ben v. Sabret Scott. Answer to the Writ of Habeas Corpus
In obedience to the within writ I herewith produce the body of Negro Ben and do state the cause of his detention in Jail to be a Commitment (by John Ott Esqr a Justice of the Peace for Washington County in the District of Columbia) a Copy of which is hereunto annexed.
Washington Boyd
Marshal D.C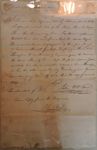 Whereas it is represented by Sabrett Scott to the Subscriber a Justice of the Peace that his negro Ben has runaway from his service & otherwise treated him ill and fears that the said negro Ben will runaway again & therefore prays a Commitment for Safe Keeping. There are Wherefore to authorize & require you to receive the said Ben & him safe keep in your Gaol until his said master releases him therefrom or he be otherwise legally Discharged. Given under my hand & seal this 23rd day of March 1809.
Signed
John Ott (Seal)
The Marshal of D.C.
True Copy from the Original
W. Boyd