Moses Burr v. Patrick Dunnahoo. Civil Court Report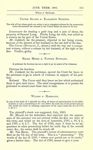 A petitioner for freedom has not a right to go in search of his witnesses.
Petition for freedom.
Mr. Caldwell, for the petitioner, moved the Court for leave to the petitioner to go in search of evidence in support of his petition.
Refused. The Court said they knew no law which authorized them to give such leave. The usual recognizance is to permit the petitioner to attend court from time to time.