Sylvia v. George Coryell. Circuit Court Report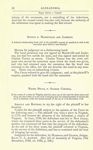 If the owner of a slave in Virginia send his slave out of the state for three years, and bring the slave back, it is not such a bringing into the Commonwealth as entitles the slave to freedom, under the second section of the act of 17th December, 1792.
Assault and Battery, to try the right of the plaintiff to her freedom.
Verdict for the plaintiff, subject to the opinion of the Court on the following case:—The plaintiff was born a slave in Virginia, in 1779, and became the property of the defendant, a citizen of Virginia. In June, 1789, the defendant sent her to New Jersey, where she remained for three years in the service of the defendant's mother, but continued all that time the property of the defendant. At the end of the three years, the plaintiff returned to Virginia, to the service of the defendant, and has so remained until the time of bringing her action.
Judgement for the defendant, by Marshall and Cranch, Judges. Kilty, C. J., doubted. (See Act of Assembly of Virginia, 17th December, 1792, ed. 1832, p. 186)