Richard B. Alexander v. Moses Graham. Supreme Court Report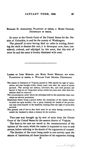 In error to the Circuit Court of the United States for the District of Columbia, in and for the county of Washington.
The plaintiff in error having filed an order in writing, directing the clerk to dismiss this suit, it is thereupon now, here, considered, ordered, and adjudged by this court, that this writ of error be and the same is hereby dismissed with costs.