Walter Thomas & Dennis Thomas v. Alexander Scott. Circuit Court Report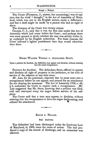 Upon a petition for freedom, the defendant may appear and disclaim, without entering into the usual recognizance.
Petition for freedom. The defendant, Scott, offered to appear and disclaim all right of property in the petitioner, at the time of service of the subpœna or any time since.
Mr. Law, for the petitioner, objected that he must enter into a recognizance before he can appear, and prayed for an attachment for not obeying the summons. The Act of Assembly 1796, c. 43, § 5, authorizes the Court to require such a recognizance. Mr. Law suggested that Mr. Scott, knowing that a petition was filed, sold and conveyed away the negro before service of the subpœna.
The Court said that a man may appear, to disclaim, without entering into the recognizance to have the negro forthcoming, and refused the attachment.