Charles Mahoney v. John Ashton. Special Verdict from October 1797 Trial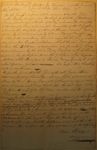 We the Jury impannell'd & sworn, to try the Issue in this Cause, do upon our Oaths find that the Petitioner Charles Mahony, is the Son of Nelly, who was the Daughter of Mr Carrols Sue, who was the daughter of Mr Diggs Sue, who was the daughter of a black Woman named Joyce, formerly held & claim'd by Colonel Henry Darnall
That the said Henry Darnall departed this Life in the year Seventeen hundred & Eleven, & that the said Joyce from whom the Petitioner is descended was for many years held & claimd by the said Henry Darnall as his Slave; & died in his possession or in the possession of his Representative, at the Wood Yard in Prince George's County; but at what precise period [strikethrough] she departed this Life is to us unknown.
We further find that the Issue of the said Joyce & their descendants were & have been always held & claim'd as Slaves by the sd Henry Darnall, & those claiming under him; & we do not find that either the said Joyce in her Life time or any of her Children ever claimed the right of Freedom.
And we further find that the said Joyce came into this Country with Charles Lord Baltimore son of Cecilus Lord Baltimore from England but the precise time we cannot ascertain between the year sixteen hundred & seventy six & the fifteenth of February sixteen hundred & seventy nine & if upon the whole matter aforesaid the Court shall be of opinion that the Petitioner is entitled to Freedom then we find the Issue in this Cause for the Petitioner, but if the Court upon the Matter aforesaid shall be of Opinion that the Petitioner is not entitled to Freedom, then we find the Issue aforesaid for the defendant.
John Partridge
Foreman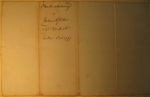 3 1/4
Charles Mahoney
v
John Ashton
Spl Verdict
Taken Oct 1797