Charles Mahoney v. John Ashton. Deposition of Sarah Ratcliff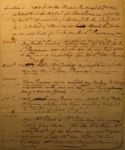 Question Did yr Mother Rachel Ratlief the person alluded to in the Deposn of Eben Paramore respectg the Freedm of some Negs belongg to the Revd Mr Jno Ashton & others ever [strikethrough] Wash the Linen or do any Kind of Work for the Sd Paramore
Answer My Mother Rachel Ratlief never did Wash for the sd Parramore nor did she ever do any Kind of work to her my Certain Knowledge for the sd Eben Paramore
Questn Were yr Mother Ra Ratlief acquainted or did she ever see the sd Eben Paramore
Answer Eben Paramore never was at see my Mother Ra Ratlief who Lived with me all her my Life time after my being a woman grown
Questn Did [strikethrough] any Person ever apply to yr Mother to Enquire whether she Knew any thing respectg the Freedm of some Negs.
Answer Yes Ths Tillard & Rd Richardson did once apply to my Mother. but she told them tht she knew nothg of the Freedom of any Negroes whatever or any Neg was Entitd to their Freedom. Mrs Andersons Negroe Woman Maria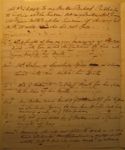 did also[?] apply to my Mother Rachel Ratlief to Enquire abt her Freedom. but my Mother told her she Knew nothg of her Freedom. if she was Entd to it it was wht she did not Know
Qu What length of time do you Immagine yr Mother Lived with you & did she Continue to Live with you untill her Death
Ansr Abt Sixteen or Seventeen Years ago & she Lived with me untill her Death
Qu Did yr Mother Ra Ratlief wash for her Self to the time of her Death
Ansr My Mother never washed for Herself for Fifteen or Sixteen Years before her Death I did her washing & every thing Else for her
Qu Why did you wash for yr Mother such a Considera Length of time
Ansr Because she was not Able to Wash or do any Kind of Work bei Whatever unless it was a little Knittg but she never Washd as above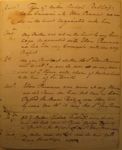 Quesn Then yr Mother Rachel Ratlief had no Connexion with Eben Paramore nor was she in the Least Acquainted with him
Ansr My Mother was not in the least to my Knowledge Acquainted with Eben Paramore nor had she any Connexion with him any Respect
Qs do you Recollect whether the sd Eben Paramore ever [illegible] or was he ever at on any occasion at yr House with whom yr Mother Lived to the time of her Death.
Ansr Eben Paramore was never at my House nor did I ever see him but once as he Passed the Main Road & was then told by some one tht it was the sd Eben Paramore
Qn Did yr Mother Rachel Ratlief ever Live near the Wood Yard in Prince Georges County as Asserted in the Deposn of the sd Eben Paramore
Ans My Mother never did live near the Wood Yard to my Knowledge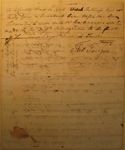 A A County June 10th 1796 Sarah Ratlief aged abt Forty Years or thereabout Came before me the Subscriber & made oath that the answers she has made to the Defts interogas are to the best of her Knowledge Just & True
Thos Tongue
5 1/2 sides
Sarah Ratcliffe
(contradicts Eben Paramore)
No 14