Robert Thomas v. Henry Pile. William McConchie's Answers to Interrogatories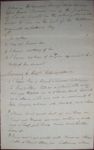 William McConchie being duly sworn before James Freeman one of the Justices of Charles County on the interrogatories exhibited to him on the part of the Petitioner answereth as follows: viz
1st No neither.
2 I do not know her;
3 I know nothing of her.
4 I know nothing of her & am ignorant totally of her descent.
Answers to Defts Interrogatories
1 I knew Peg a black woman belonging to David Stone held as a slave; She was always treated as a slave; and labored as a slave. She was sold or exchanged to John Semple whom she served as a slave.
2 I have lived great part of my time on Point and Manor, and now within a mile and a half and have never lived farther from it.
3 I was not acquainted with Thomas Stone father of David Stone, nor Catharine Stone  
Nor Cat widow of Thomas Stone. I was well acquainted with David Stone, almost all my life. My eldest Brother married a daughter of David Stone. I was in general on friendly terms with him and his family.
I never heard of their having held persons, in slave entitled to their freedom in slavery.
4 Not that I recollectt.
William McConchie sworn before the Subscriber aged about fifty seven or fifty eight years this 11th day October 1794
James Freeman
Wm. McConchie
1.
2½ sid
William McConchie's Deposition
No. 33.
Entered
Filed 31t October 1794