Robert Thomas v. Henry Pile. James Mancaster's Answers to Interrogatories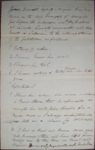 James Moncaster Aged 59 or 60 years being duly sworn on the holy Evangely of Almighty God before the subscriber one of the Justices of Charles County answereth and deposeth as follows. To the interrogatories of the petitioner as follows
1 Nothing of either
2 I never knew her at all
3 I know her not.
4 I know nothing of Betty Mingo nor her pedigree
Defts Interrs
1 I knew her when she was a slave of David Stone, that he afterwards exchanged her with John Semple for a negro man. I always understood she was held as a slave by Mr Semple
2 I lived on Point and Manor seven years with Richard Stone; and have lived from twenty one to this time on Point and Manor. I was only acquainted with David Stone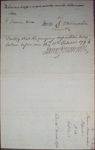 3 I was only acquainted with David
4 I never did
James Muncaster
his J mark
I certify that the foregoing deposition was taken before me this 11th. October 1794
James Freeman
2.
2 sid
James Moncaster's Deposition
No. 34.
Entered
Filed 31st. October 1794