Edward Queen v. John Ashton. Deposition of George Davis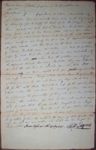 George Davis of Anne Arundel County aged fifty four years and upwards being sworn on the holy Evangelity of Almighty God to testify the truth of his knowledge in this Cause deposeth and saith that he has known Ned the petitioner for many years, and he has known Phillis who now lives with Mr. Ashton for about twenty years; and he further saith that between twenty one and twenty two years ago, the deponent happened at John Atwell's who then lived on the Land owned by Thomas Duckett near Mr. Ashton's, and Ned the petitioner passed by, and Lewis Lee who lived in Anne Arundel County was present and [strikethrough] when Ned the petitioner was passing the deponent observed how many Mulattos there were at the [illegible]; to which the said Lewis Lee answered yes, and said that that lad, pointing at Ned, ought to be free for his grandmother was a free woman; Being asked if he knew the grandmother of Ned, answers he did not know anything about her. He further saith that Mrs. Atwell wife of the aforesaid John Atwell asked the said Lewis Lee several questions about her (meaning the grandmother of Ned) and Lewis Lee made answers, the substance of which he does recollect, except that he said that Capt. Larkin brought her in: Being asked if he remembers that the said Lee mentioned where she was brought from, answers he does not. Being asked if Lewis Lee mentioned the name of Ned's Grandmother says he did not nor where she lived nor how he got his information.
Sworn before me this 27 May 1793
Allen Quynn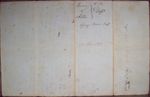 4. s.d
Queen
v
Ashton
Depo.
George Davis Dpn
filed 1 Jun 1793
3