Julia Roberts v. Austin L. Adams & Ann C. Harding. Deed of Manumission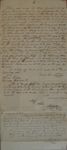 A
Know all men by these presents that I Simon Summers have in my possession the here after named people now in the County of Fairfax and state of Virginia which are slaves during their natural lives, which is Contrary to the spirit of Christianity or humanity, and whereas by an act of Assembly of said state, passed in the year of our Lord one thousand seven Hundred and seventy six, giving the holders of slaves liberty to manumit them: Or by these presents liberate each slave in the following manner. Negroes Milly about the age of 39 years, to be free the first day of January[?] 1812, Fanny about the age 39 years to be free the 1st day of January 1813 Sarah about the age of 18 years to be free 1st day of January 1814 Will about the age of 14 years to be free the 1st day of January 1818 Hannah Sarahs Child about the age of five months to be free the first day of January 1829 all the Children that may be born of Fanny and Sarah, to be free at the age of 25 years and their children and Hannahs children are to be free at the age of 21 years.
As witness my hand and seal this 31st day of december 1801.
Simon Summers (seal)
Test
Charles Little
Harrison Cleaveland
At a Court held For Fairfax County 18th day of January 1812 Simon Summers Acknowledged this Deed of Manumission to the Several Negroes therein mentioned to be his Act and Deed, Which is ordered to be Recorded
Test
William Moss CC
A Copy
Test.
S M Ball
I Spencer M. Ball Clerk of the County Court of Fairfax in the Commonwealth aforesaid, do hereby certify that the foregoing is a true Copy, of the deed of manumission from Simon Summers to his negroes, as the same is recorded in my Office.
In testimony whereof I have hereto set my name and affixed the seal of the said County this 22d day of September 1841, and in the 66 year of the Commonwealth.
S M Ball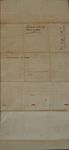 Summer's deed of Manumission
Deed of Manumission of Simon Summers
Virginia to wit
Fee for Seal & Certificate $1.37