Julia Roberts v. Austin L. Adams & Ann C. Harding. Petitioner's Notes of Evidence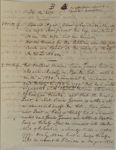 B A one of the papers referred to in first bill of exceptions
For the deft:
1 Witness - Samuel Agar - knew of Sarah's death - who was kept above ground two days, when Austin L Adams, the deft: had her buried.
And the Counsel for the Petitioner admitted, that Sarah was buried at the expense of the deft: Austin L. Adams.
2. Witness - Col: William Minor - Simon Somers lived in Alexandria County in the Dis: Col: - until his death in 1836 - commenced his residence in said County, in 1798 or 1799 - that he is well acquainted with the boundary line between Alexandria, & Fairfax Counties - and that the Tract of Land, on which Simon Somers, so settled, is all in Alexandria County, Dis: Col: - Simon Somers' owned Land in Fairfax County, but it was in wood, nor did said Simon Somers ever cultivate Land in Fairfax County, after he removed into the District of Columbia, as already stated in 1798 or 1799. Wesly Adams lived in Fairfax County - until he removed to Florida in the year 1826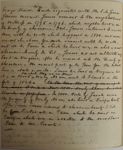 George Minor - Is Was much acquainted with the late Simon Somers deceased - Somers removed to the neighborhood of Witness in 1795 or 1796 - which neighborhood is in the County of Alexandria - D: Col - Somers continued to reside there, until his death which happened in 1836 - and never resided elsewhere, from such removal until his death - and all his Farm on which he lived, was in what is now Alexandria County Dis: Col: - Somers' did not cultivate any Land in Virginia, after his removal into the County of Alexandria - the nearest part of his Farm from the district line is about a mile - Somers has Land in Virginia, but it is in Wood & on which there was no House Wesley Adams went to Florida in the fall of 1826 - At the time the deed of emancipation was made to wit in Decr. 1801 - Wesly Adams had Will & Sarah in possession - In 1800 - Will & Sarah were the property of Wesly Adams, who lived in Fairfax County. After Simon Somers removed to Alexandria County D: Col. he Rented out a Farm which he owned in Fairfax, which was in addition to the Woodland Farm, to two Tenants.