Julia Roberts v. Austin L. Adams & Ann C. Harding. Complaint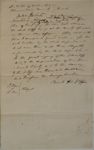 Julia Roberts complains of Austin L. Adams and Ann E. Harding in custody &c. of a plea of trespass & false imprisonment. For this that whereas the said plff being at the county aforesaid on the     day of       1840, was with force & arms and great violence assaulted and beaten by the said defendant and was then and there illegally imprisoned by the said defendant to the great injuring of the plaintiff and to the deprivation of her personal liberty, and to the damage of the plff. one thousand dollars, and therefore she brings suit.
Brent for pltff
J. Doe
& R. Doe Pledges &c
Julia Roberts
v
Austin & Adams
narr
1841 May Term 10' day
Nar filed & docketed by counsel & not guilty Jd & Cont
October Term     day
Contd
1842 May Term 14' day
Jury sworn & assd[?] & Cont till to morrow
15th Jury appeared in Court & returned the following verdict "We of the Jury find for the petitioner" & Judgt.
The defts tendered two bills of Exceps.
44
12
56
pls petition 18, order 26,
44
Caps 18,

dod[?]

8, att 8, ret 18,
52
nar 18, order 26,

order[?]

26,

jd[?]

8
96
2 cont 26
78
Swg Jury 10 Bl 18
88
Jud 9

C 18 H 20 C 20[?]

76
4 Spa 18
72
5 orders 18
90
5 copies

90

6.86
Att fee
5
Atto

W[?]

S:

23.90

35.76