Jane Williams v. Richard H. Love. Complaint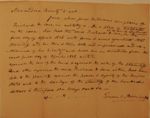 Jane alias Jane Williams complains of Richard H Love in custody &c. In a plea of trespass on the case. For that the said Richard H Love at the County aforesaid on the first day of april 1816 with force & arms assaulted the plaintiff and her then & there took and imprisoned and restrained of her liberty and held her in servitude from the said first day of April 1816 until       against the law of the land & against the wish of the plaintiff and other injuries the said Richard H Love within that time did to the plaintiff against the peace & dignity of the United States and to the damage of the plaintiff of one hundred dollars & therefore she brings suit &c.
Thomson F. Mason pro que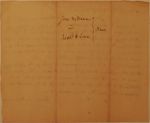 Jane Williams
vs
Richd. H Love
Narr.