Rachael Brent v. John Armfield. Jury Instructions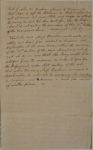 That if, when Mr. Buckner returned to Virginia in Novr. 1830, he left the Petitioner in Washington, hired out at service 'til June 1832, and made no attempt to carry her out 'til then sent for, then the Defendant is not within the provision of the 4th Section of the Maryland Law. Anno 1796, Ch. 67.
That the said Ariss Buckner could not be a settled and bonâ fide resident in Virginia and Washington at the same time, within the meaning of the 2nd section of the said Maryland Act, of 1796. ch. 67. and that the Jury ought to be satisfied from the evidence, in order to find for the Defendant, under that section of the act, that when the said Ariss Buckner removed to Washington, he intended to renounce his residence in Virginia, and to become a bonâ fide resident of another place.