Rachael Brent v. John Armfield. Complaint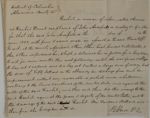 Rachel, a woman of colour, called & known as Rachel Brent complains of John Armfield in custody &c. of a plea for that the said John Armfield, on the       day of       in the year 1833, until force & arms, made an assault on the said Plaintiff to wit: as the county aforesaid, & then & there beat, bruised & ill treated, & then & there imprisoned her, & kept, & detained her in prison for a long time, to wit, for nine months then next following, until she was forced & obliged to lay out & expend, and did lay out & extend a large sum of money, to wit: the sum of Fifty Dollars in the obtaining her discharge from such her imprisonment, without any reasonable or probable cause whatsoever, contrary to the laws & customs of the United States, and against the will of the said Rachel, and then and there did other wrongs to the said Rachel against the peace & dignity of the United States, and to the damage of the said [strikethrough] Rachel One Thousand Dollars, and therefore she brings her suit &c.
B. Hooe. P Q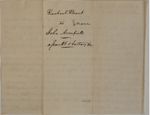 Rachel Brent
vs
John Armfield
Narr:
assault & battery &c.