Ex parte Nathaniel Holmes. Warrant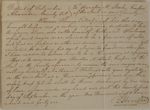 Whereas Henry Tatsapaugh has this day brought before me a certain negro man, suspected to be a Runaway Slave, who called himself Nathaniel Holmes; which said negro man claims to be a free man of color, but has no papers or other evidence in any manner calculated to sustain his said claim to freedom, wherefore I have reason to believe him to be a Runaway, as aforesaid,
This is to command you Horatio N. Steele, Keeper of the Jail in the County aforesaid, to receive the said negro man calling himself Nathaniel Holmes into your custody in the said Jail, as a Runaway as aforesaid, and him there safely keep 'til he shall be thence discharged by due order of law. Given under my hand and seal this twenty first day of September in the year One Thousand and eight hundred and forty one.
B: Hooe (seal)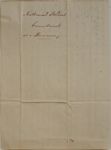 Nathaniel Holmes' Commitment as a Runaway