Daniel Wells v. Benjamin F. Lewis. Bond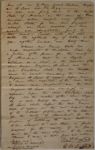 Know all men by these presents that we, Benjamin H. Lewis and Eli Legg are held and firmly bound to the United States of America in the sum of three hundred dollars, lawful money of the United States, for the true payment whereof we bind ourselves, our heirs, executors and administrators, firmly by these presents Sealed with our seals; dated this eighteenth day of October in the year eighteen hundred and twenty three.
Whereas one Daniel Wells has made complaint to Christopher Neale Esq. a Justice of the Peace for the county of Alexandria, that he is illegally detained as a slave in the possession of the above bound Benjamin H. Lewis and the said Christopher Neale Esq. has thereupon issued his warrant summoning the said Benjamin H. Lewis to appear before him, or some other magistrate of the said County to answer said Complaint, and the said Benjamin H. Lewis has accordingly so appeared before the said Christopher Neale Esq. Now the condition of the above obligation is such that if the said Benjamin H. Lewis shall suffer the said David Wells to appear at the next Circuit Court of the District of Columbia, to be held for the County of Alexandria, for the purpose of petitioning the said Court to be allowed to sue therein in forma pauperis for the recovery of his freedom, then the above obligation to be void otherwise to remain in full force and virtue.
Benj. H. Lewis (seal)
Eli Legg (seal)
Sealed and delivered in presence of
Joseph Braders[?]
Davis Bowie