Daniel Wells v. Benjamin F. Lewis. Summons of Benjamin F. Lewis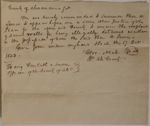 You are hereby commanded to summon Ben. H. Lewis to appear before me or some other Justice of the Peace for the aforesaid County, to answer the complaint of Daniel Wells for being illegally detained as a slave in the possession of him the said Ben. H. Lewis.
Given from under my hand & seal this 17. Oct: 1823.
Chr: Neale (seal)
JP. Alx. County
To any Constable or sworn officer of the Courts of Alxa.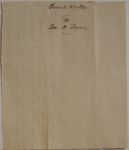 Daniel Wells
vs
Ben: H. Lewis