Ann Brooks v. William D. Nutt. Bill of Sale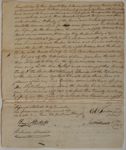 Know all Men by these presents that I James Montgomery Stewart of the Town of Alexandria and District of Columbia in consideration of the payments and covenants herein contained and expressed, have granted Bargained and Sold, and by these presents do grant Bargain and Sell unto Mr Oliver P. Finley of the Town and District aforesaid, my mulatto woman Clara for Life seven years, and her child Sarah for Life, for the Sum of one hundred and fifty Dollars to be paid me in manner following, viz. The Said Finley is to give me Messrs. Marsletters & Youngs note at four months after date for one hundred and twelve Dollars, and his own note at four months for the Ballance thirty eight Dollars. And the said Finley doth Bind himself, his heirs Executors administrators or Assigns at the Expiration of Seven Years from the date of these presents to Sett free the Said mulatto woman Clara according to the true Intent and meaning of these presents and I the Said Jas M Stewart likewise at the Expiration of the Said Seven years do liberate Said Clara from all claims of me my heirs Executors administrators or assigns. In Testimony whereof we the parties have hereunto Sett our hands and affixed our Seals this twenty fourth day of July in the Year of our Lord One thousand eight hundred and five
O. P. Finley (seal)
Jas. M Steweart (seal)
Signed Sealed & delivered in presence of the word life in sixth line from top first run through
Benjn Ricketts
William Hodson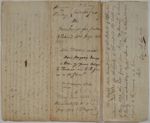 + 5 day
Stewart
to
Finley
Bill Sale
A
Proceedings for freedom.
1 Revised Code page 346 347.
Ann Brook's case
Does progeny during a term of years belong to [illegible] or to the fee or is it free?
Donl[?] Brooks [illegible]
May Term 1833.
Recorded Lib. U. No. 2 page 174 & Exam'd
At a United States Circuit Court of the District of Columbia continued and held for the County of Alexandria the tenth day of May 1833, this bill of sale from James M. Stewart to Oliver P. Finley was acknowledged by said James M. to be his act & deed & ordered to be recorded as to him.
Test,
Edm: J. Lee C. C.