Ann Brooks v. William D. Nutt. Deed of Manumission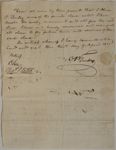 Know all men by these presents that I Oliver P. Finlay, owner of the female slave called Clara Brooks, Do hereby manumit and set free the said slave Clara, and hereby renounce and relinquish all claim to the future time and services of the said slave.
In witness whereof I have hereto set my hand and seal this third day of April 1817.
O P Finley
Witness
C Litle[?]
Chas: I: Cattell[?]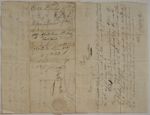 Cerf. 8 day[?]
Oliver P. Finley
to
Negroe Clara
Deed of Man:
1817 April Term 8th day Certified
November Term 1817 No. 83.
Recorded Liber F. No. 2. folio 68.
Examined
Claras Freedom
At a united States Sircuit Court of the District of Columbia Continued and held for the County of Alexandria the 12th day of May 1817.
That Deed of Manumission from Oliver P. Finley to Negroe Clara was proved by the oath of Charles I. Cattell[?] to be the Act and Deed of the said Oliver P. Finley and ordered to be certified And at another Court continued and held for the County aforesaid the 29th day of November 1817 Oliver P. Finley acknowledged the same to be his Act and Deed which is ordered to be recorded.
Test,
G. Deneale CC: