Cleary Moore v. Thomas Jacobs. Complaint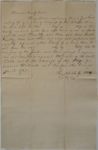 Cleary Moore, complains of Thomas Jacobs in custody &c of a plea of Trespass for this to wit. That the said deft: on the       day of       1829 at the County aforesaid with force and arms made an assault upon the said Plaintiff and then and there the said Plaintiff, then and there did seize and imprison and unjustly deprived of her liberty for a long time to wit from the said       day of       1829 'till the bringing of this suit. and other wrongs & injuries then and there did against the peace of the United States and to the damage of the Pltff: five hundred Dollars and therefore she brings suit &c.
Chr: Neale for Pltff.