Matilda Sewall v. Eleanor Thompson. Petition for Freedom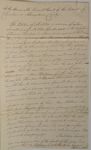 The Petition of Matilda, a woman of colour, who calls herself Matilda Sewall, now in the possession of Eleanor Thompson in Alexandria, represents that some three or four years ago, John Thompson & Eleanor Thompson removed from St. Mary's County in Maryland and came, directly, to Alexandria, which they then selected as the place of their permanent residence. That the said John Thompson & Eleanor Thompson continued to reside in Alexandria from the time of their removal, until the autumn of the last year, when the said John died parted. That the said Eleanor continues to reside in Alexandria. Your Petitioner further shews that the said John Thompson & Eleanor Thompson brought her, with them, to Alexandria from St. Mary's County aforesaid, without having any intermediate residence whatever. and that no registry or affidavit of her said removal has ever been made in Alexandria aforesaid, as required by Law. Your Petitioner shews that she is illegally detained in slavery, & asks to be permitted to bring her suit, in forma pauperis, to obtain her Freedom: and she also asks that the said Eleanor Thompson may be required to appear, and shew cause, if any she can, why such permission should not be granted; and, as in duty bound, your Petitioner will ever pray &c.
Matilda Sewall
From my examination of the facts of this case, I am of opinion that the Petitioner is entitled to her Freedom.
B. Hooe. atty.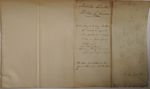 Matilda Sewall's Petition for Freedom.
1833. May T. 11th day. B. Hooe assd. counsel to report &c who reported &c. & leave to sue informa paup. & Caps. awd.
14th day. Not guilty sd & Jury Sworn & verdict for deft: & Jdt.
Mr Hooe directs that no Ex: issued in this case. 23d Nov 1833
Mr. Martin.