John Lee v. John S. Hutcheson & Benjamin Lewis. Petition for Freedom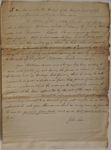 The Petition of John alias John Lee respectfully shews that your Petitioner is held in slavery by John S. Hutcheson and Benjamin Lewis who are engaged as traders in slave property. that he has reason to fear he will be sold and removed from this country as a slave for life; when in fact he is directed by the will of his former master to serve only til he attains the age of thirty one years, as may be seen by reference to the will of Elizabeth Patterson, hereto annexed.
Your Petitioner is now and always has been willing to serve with fidelity for and during the period in which he should be legally held in bondage, but fearing that he may be sold & removed to so great a distance from the place of his birth & former residence, that the evidences to support his claim to freedom, at the time appointed by the will of the said Elizabeth Patterson cannot be obtained without great difficulty amounting almost to a denial of his just rights, he is constrained to ask your Honours that he may now be permitted to sue in forma pauperis, and as in duty bound will ever pray.
John Lee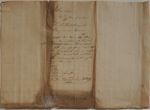 John Lee
vs
John S. Hutcheson & Benjamin Lewis
For freedom
1826 Nov Term 14th day
On motion of the Mr. Hooe petition it is ordered that process issue and that the petitioner be in custody of the marshal until the defendants enter into bond &c.
1827
May
June
July Contd.
Augt Dismd. by Pltffs Atto