Letty v. Thomson F. Mason. Petition for Freedom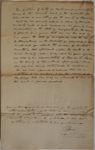 The petition of Letty (a black woman) respectfully shows to the Circuit Court of the District of Columbia & now sitting for the County of Alexandria,
That she was formerly held as a slave by Daniel McCarty, and as such resided in his family & under his direction in the State of Maryland for the space of four or five years, that she was then sent by him from the State of Maryland into the County of Alexandria in the District of Columbia & there hired out for about the period of twelve months; that afterwards & after the death of the said McCarty (that is to say about ten years ago) she was sold by his representative to Thomson F Mason in the County of Alexandria aforesaid, where she has ever since continued to reside.
She has been informed & believes that she is entitled to her freedom, & for the recovery of it she prays that she may be allowed to sue in this court in forma pauperis.
Bernard Hooe assigned as Counsel for the petitioner Letty respectfully reports that he has enquired into the facts of her case, & is satisfied that they have been correctly set forth in the petitioner, & that the petitioner is entitled to her freedom.
B. Hooe.
April 16th, 1827.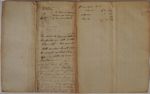 Petition of Letty
vs
T. F. Mason
To sue in forma pauperis for recovery of her freedom
The defent having [strikethrough] admitted the facts as stated by the plaintiff. The court doth render Judt for the plft & that she is intitled to her freedom.
1827 Apl. Term 6th day
Petition filed & B. Hooe assigned Counsel for the petitioner
7th Report filed & leave to sue in form a pauperis & T. F. Mason appeared & filed his answer & the deft. admitting the facts in the petition. It is considered that the plaintiff is entitled to freedom & Jud
| | |
| --- | --- |
| Plaintiffs Costs | |
| Clerk's | $2.24 |
| Attorney | 5.0 |
| Marsh | .50 |
| | $7.74 |