Sarah Ann Luckett v. Jonathan P. Walkom & Elizabeth Walkom. Petition for Freedom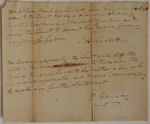 Your petitioner, Sarah Ann Luckett, alias Mary Ann Luckett shews to the Court, that she is detained in bondage by Jonathan Walkom and Elizabeth Walkom and prays the Court to permit her to sue in forma pauperis for freedom.
S. A. Luckett.
The Counsel assigned by the Court states that the facts in this case are similar to those as in the Case of Susanna Luckett her mother; as far as he has received information, and deems it unnnecessary to make any further statement.
J. T. Ramsay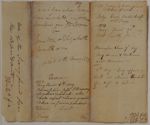 We of the Jury find for the defendant
[illegible] foreman
389
Sarah Ann alias Mary Ann Luckett (in forma pauperis for freedom
v
Jonathan & Elizabeth Walkom
filed 11th May 1823
Entered
1823.
May Term 6th day
Petition: filed, Jesse T. Ramsay assigned as council, who made report & Leave granted to sue in forma pauperis
Decem. Contd.
1824. Jany: Nar. filed & Com. Ordered.
Feby: Com. order Confd. Wt. Inqy.
1824
May Term 20th day Not Guilty Jd.
November Term 7th day Jury Sworn & Continued until tomorrow
8th day. Jury appeared in Court and returned Verdict for Deft. & Jud.
Rams.
Tay