Susanna Luckett v. Jonathan P. Walkom & Elizabeth Walkom. Summons of Jonathan P. Walkom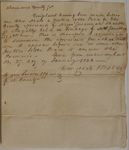 Complaint having been made before me Chr: Neale a Justice of the Peace for the County aforesaid by Negro Susannah, that she is illegally held in bondage by Mrs Jonathan P Walkom. This is therefore to require you to summon the aforesaid Jonathan Walkom to appear before me or some other Justice of the Peace to answer the Premises. Given from under my hand this 27 day of January 1823.
Chr: Neale J. P. Alx. Cty.
To any Sworn Officer for the County.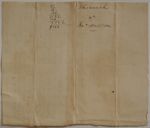 Susannah
at.
Jona. Walkom
25
25
50
12½
112½
100
212½
$106