Susanna Luckett v. Jonathan P. Walkom & Elizabeth Walkom. Bond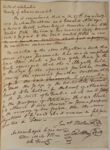 Be it remembered, that on this 27th day of Jany. 1823 Jonathan P. Walkom and Edward A. May of the said County, acknowledged themselves to owe to the United States, the sum of Two hundred & fifty Dollars each, to be paid to the said United States, in case the said Jonathan Walkom shall fail in performing the condition underwritten.
The condition of the above obligation is such that whereas Negro Susannah has made complaint before Chr: Neale a Justice of the Peace for the County aforesaid that she is illegally held in bondage by the aforesaid Jonathan Walkom Now if the aforesaid Jonathan Walkom shall permit the said Susannah to appear before the Honbl: the Judges of the United States Circuit Court to be holden for the County of Alexandria in the District of Columbia at its next sitting for the purpose of Petitioning the said Court to be allowed to sue therein in forma pauperis for the recovery of her freedom, then the above obligation to be void, else to remain in full force & virtue in Law.
Jona P. Walkom (Seal)
Edwd A May (Seal)
Acknowledged before me Chr: Neale J. Peace at Court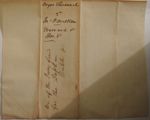 Negro Susannah
agt.
Jona. P. Walkom
Warrant & Bond
We of the Jury find for the Deft
[illegible]