Isaac Macol v. William H. S. Boswell. Bond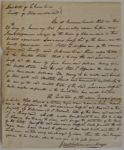 Be it Remembered that on the 29th day of January 1821 personally came before me Jacob Hoffman Mayor of the Town of Alexandria in the District aforesaid, Lawrance Hooff Senr. of the Town and County Aforesaid and Peter E. Hoffman of the same Town and County and Acknowledged them selves to owe the United States. That is to say the said Lawrance Hooff Ser. the sum of five hundred Dollars Money of the United States, and the said Peter E Hoffman the sum of five hundred Dollars like money to be mad and levied of their goods and Chattels, lands and tenements respectively, to the use of the said United States, if the said Lawrance Hooff Senr. shall make default in the Condition here under written.
The Condition of the above Recognizance is Such, That Whereas a Certain Negro Man Named Isaac Macol now in the possession of the said Lawrance Hooff Ser. and Claimed as the property of William H. S. Boswell late of this Town, and now residing in Maryland, Hath made complaint to me that he is Held in Slavery Contrary to Law, and prays the protection of the Court of this County. Now if the said Lawrance Hoof Senr. shall permit the said Negro Man Isaac Macol to appear at our next court, and then to Continue untill duly discharged by Law, then the said Recognizance to be void, [illegible] to remain in its full force
Jacob Hoffman Mayor.