Isaac Macol v. William H. S. Boswell. Will of Elizabeth Smith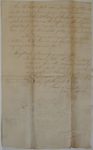 In the last Will and Testament of Elizabeth Smith late of Prince Georges County, deceased, bearing date the 16th day of December 1811, and proved & recorded in the office of the Register of Wills for said County, on the 8th day of September 1819, among others is the following devise, towit
"Item. I give and bequeath to my nephew William H. S. Boswell and his heirs forever my negroes Isaac and Jim."
Maryland Prince Georges County Sct.
In testimony that the above is truly extracted from the Original Will of Elizabeth Smith, filed and recorded in my Office, I hereto set my hand and affix the Public Seal of my office this 21st day of Mary A. D. 1821.
Trueman Tyler Reg. of Wills for P. G. Cty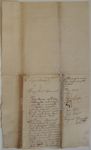 440.
Negro Isaac
vs
Henry H. S. Boswell
1821.
May Term. 14th day
Petition filed & R. I. Taylor assigned as counsel for the petitioner to examine into the facts upon which he founds his freedom and to make report to this Court with his opinion thereon.
17th day Report retd. & filed & leave to sue in forma pauperis & Caps. servd. agt. H. S. Boswell returnable to the next Court & in the mean time the Petitioner to be in the custody of the Marshall untill the Deft. give bond & Secy. either in Court or with the Clerk in the penalty of $500 to have the Petitioner forthcoming to answer the Judgment of the Court.
1821
Dec: Contd.
1822
Jany
Feby
March
Apl.
May Contd.
June. Contd.
July Contd.
August Dismissed by Pltffs Atty