William v. John Swann. Motion of Sarah Plummer
In the case of Negroe William vs Jno. Plummer John Swann Sarah Plummer [strikethrough] the owner of the sd Wm × moved the court to have the parties who entered into a recognisance called & forfeited but the court refused to permit this course saying that if John Swan Thos Swann & Peter E. Hoffman the duties[?] in the aforesaid recognisance were bound for any thing it could not be taken advantage of by the mover.
× produced to the court the a paper writing in the following words ([strikethrough] here insert the it) and moved the court to have the said John Swann & Edmond Hoffman called as upon a recognizance that the same might be forfeited and a scire facias issued thereon. which motion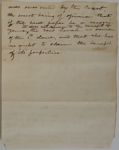 was over ruled by the Court, the court being of opinion that if the said paper be a recognizance it does not [illegible] to the benefit of the said Sarah, as owner of the sd. slave, and that she has no right to claim the benefit of its forfeiture.