Sarah v. Elijah Taylor. Complaint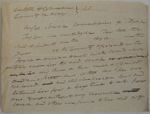 Negro Sarah complains of Elijah Taylor in custody &c For that the said defendant on the     day of       in the year     at the County aforesaid with Force & arms. to wit with swords, clubs & staves upon her the said Sarah at Alexandria in the C did then & there make & assault and evil treat her so that her life was [illegible] and and did imprison her and detained her for a long time to wit for one year. Without any reasonable costs cause, and other injuries to her did agt.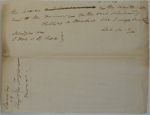 the peace and government of the United States, and to the Damage of the said plaintiff       dollars & therefore she brings suit &c
Lee p.q.
Pledges &c
J Doe & R: Roe
Sarah
vs
Elijah Taylor
narr.