Sarah v. Elijah Taylor. Petition for Freedom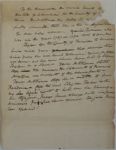 To the Honorable the Circuit Court of the District of Columbia for the County of Alexandria. The Petition of Negro Sarah respectfully sheweth, that she is the [illegible] of one negro woman named Tamur, who was in the year 1789 or 1790, sold to one       Taylor of the County of Fairfax to serve him nine years. after which That during the nine years she was bound to serve, your Petitioner was born, and has ever since been held by Elijah Taylor, as a slave. Your Petitioner states that [strikethrough] The [illegible] the statement of Francis Peyton, in support of the above facts. Your petitioner states she is entitled to her Freedom & that the said Elijah Taylor hath no [strikethrough] legal right to hold her in slavery. She therefore prays leave to bring suit in forma pauperis for freedom against Elijah Taylor aforesaid.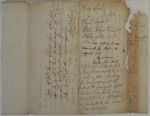 We of the Jury find for the plf and assess her damages to one cent subject to the opinion of the Court on the case agreed
Jno Pophan
Negroe Sarah
v
Elijah Taylor
Peto.
1818. April Term 17th.
Petition filed and E. J. Lee assigned as counsel for Petr. to report &c.
by order.
June 22d 1818.
report of the Statement of facts filed & leave granted to cond. a suit in forma pauperis for her freedom, and deft: ordered to give Secy. in $600 to leave her for the coming to ansr. the Judg: of the Court or committed to the custody of the Marshal.
E. Lee
[torn page]
1819
Apr. Term 20th day Judt for Deft[?].