Chloe Ann Marter v. Elizabeth Neale. Distribution of the Estate of Sarah Neale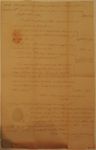 1813. October 12th.
Fielder Neale Exor of Sarah Neal Dr.
| | |
| --- | --- |
| To balance due on your final account passed this day | $4462.01 |
| Distribution of the above balance is as follows towit. | |
| To the deceased's two daughters Eleanor and Susanna one half of the above balance of $4462.01 is | $2231.0½ |
| To her son Theodore Neale a negro boy named Bob, apraised to | 275.00 |
| To her son Fielder Neale a negro boy named Charles appraised to | 275.00 |
| | $2781.00½ |
| The residue to be equally divided among the deceased's five sons & two daughters, namely Samuel Neale, Richard Neale, Zachariah Neale, William Neale and John Neale, Susanna Neale & Eleanor Neale and is to each the sum of | $240.142⁄7 |
Test. Trueman Tyler Regt.
In testimony that the above Distribution is a true copy from the Original Recorded in my office I have hereto set my hand and affixed the Public Seal of my office this tenth day of November in the year of our Lord one thousand eight hundred and fifteen.
Test. Trueman Tyler Regt