William Henry Ross v. Thomas Triplett. Statement of Facts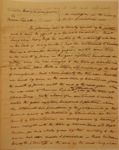 The following case is hereby agreed by the parties and to have the effect of a special verdict. That Lucy alias Mary Ross the mother of the plaintiff was born in the State of Maryland, & that she continued to reside there as a slave, for many years, until some time in the month of June in the year eighteen hundred & twelve, when she was brought to the town of Alexandria by a certain John Bell a citizen and resident of the State of Maryland, and whose property she then was; That she was hired by him in the said town of Alexandria, from the month of June, until the end of the said year, when she was sold to Thomas Triplett the defendant also of the town of Alexandria, with whom she continued to reside until the year eighteen hundred & fourteen, when she obtained her freedom by the judgment of the circuit court of the District of Columbia for the County of Alexandria, in consequence of having been brought into the town of Alexandria and kept therein for one whole year together, contrary to the law in that case made & provided. That William Henry the plaintiff is the son of the said Lucy alias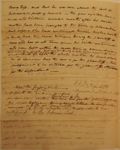 Mary Ross, and that he was born about the last of February or first of March in the year eighteen hundred and thirteen, several months after his said mother had been brought to the town of Alexandria but before she had continued therein twelve months. And that the said William Henry the plaintiff is now and has at all times since his birth continued and been kept within the said town of Alexandria. And it is further agreed that said Wm Henry is of the value or price of one hundred & twenty dollars And if upon the whole matter the court shall be of opinion that the law is for the plaintiff, then judgment to be entered for the plaintiff, otherwise for the defendant.
J D Simms for deft.
Thomson F. Mason for pltf
Upon the forgoing statement of facts the court are divided in opinion whether the Law be for the plaintiff or not the Law is for the said William Henry is entitled to his freedom or not or for the said Thomas Triplett And which is Ordered to be certified to the Supreme Court.