William Henry Ross v. Thomas Triplett. Transcript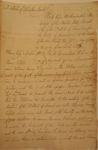 Be it Remembered that on the day and year above mentioned came William Henry Ross and on his Petition and a Statement of the facts of the case being filed, leave is granted him to commence a suit in forma pauperis for his freedom, and the Court doth assign, Thompson F. Mason Esqr. as his Counsel to prosecute the same. And it is ordered that the Petitioner be Committed to the custody of the Marshal of the District of Columbia, until the said Thomas Triplett shall enter into Bond with Security in the sum of $200. Conditioned to leave the said Petitioner forthcoming to answer the Judgment of the Court in the cause and the said Pf. by Thompson F. Mason his attorney came and filed there a certain bill against the said Thomas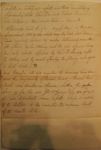 Triplett in Custody and soforth, and there are pledges of prosecuting towit John Doe and Richard Roe, which bill follows in the words towit — Nar — A.
Afterwards to wit the 9th day of May in the yar of our Lord 1816 (until which day this suit had been Cont regularly Continued by sundry Continuances), came the plf. aforesaid by his Attorney, and the said defendant having been duly arrested appeared by John D. Simms esqr. his attorney and by consent of parities the following case agreed is filed to wit — B.
and thereupon all and singular the premises being seen and the arguments of Counsel heard thereon, The Court are divided in opinion whether the is for Law is for the said plt. Wm. Henry Ross, or for the said defendant Thomas Triplett, which is ordered to be Certified to the honorable the supreme Court of the United States.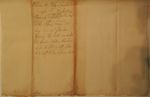 William Hy. Ross a "pauper."
vs:
Thomas Triplett
Sketch of Record
1816. April Term 10th day case agd. filed & on hearing the Court are divided in opinion whether the Law is for the plf. or deft. & Ord: to be Cerfd. to the Supreme Court
Mas:
J.D.S