William Henry Ross v. Thomas Triplett. Complaint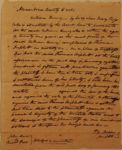 William Henry by Lucy alias Mary Ross (who is admitted by the Court here to prosecute for the said William Henry who is within the age of twenty one years, as the next friend of the said William Henry) complains of Thomas Triplett in custody &c. in a plea of trespass: For that the said Thomas Triplett at the County aforesaid on the first day of January eighteen hundred & fifteen with force & arms assaulted the plaintiff & him then & there took & imprisoned & restrained him of his liberty, & held him in servitude from the said first day of January 1815 until         against the law of the land, and against the will of the plaintiff: & other injuries the said Thomas Triplett then & within that time, did to the plaintiff against the peace & dignity of the United States and to the damage of the plaintiff of one hunred dollars & therefore he bring suit &c.
T. F. Mason for plt.
John Doe &
Richd Roe pledges of prosecution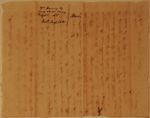 Wm Henry by Lucy alias Mary Ross
vs
Thos. Triplett
Narr.