China v. Benjamin D. Patterson. Petition for Freedom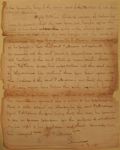 Your Petitioner China a woman of Colour begs leave to represent. that she was born and brought up in the State of Maryland where she resided until about four years ago. that at that time she was brought into the County of Alexandria by one Benjamin D Patterson claiming her as his property. that the said Patterson antecedently to his removal into the said County of Alexandria was a citizen and resident of the said State of Maryland. that your Petitioner since her importation into the said County of Alexandria has continued there for four years in the service of the said Patterson. and that the said Patterson never has taken the oath required by Law on such importation. your Petitioner is advised that under the circumstances aforesaid she is entitled to her freedom. But is still detained in slavery by the said Patterson. Your Petitioner therefore prays that she may be permitted to sue in forma pauperis for the purpose of establishing her right to her freedom. and that Counsel may be assigned & yr Petitioner &c
China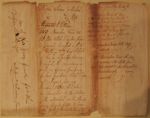 Negroe China "a Pauper"
vs
Alexander Benjamin D. Patterson
Peto.
1809. November Term 25th. Peto. filed & Rob. I. Taylor assigned as Counsel to report a Statemt. of Facts. 27th day Statemt. of Facts reported & leave Granted to commence a suit in forma pauperis for her freedom & Rob. I. Taylor esqr assigned her as Counsel & ord: that she be Committed to the Custody of the Marhsal, until the deft gives bond in $400. to have her for the J[?] to ansr. Jud: Ct.
1810 Jany Narro filed & Not Guilty Jd.
November Term 3d day
Affidavit filed & on Defts: motion as Deds. is awarded to take the Depo. of Wm Patterson to be directed to any two Justices of the Peace of Charles County Maryland
November Term 23d day
Continued
1811. November Term 16th day
Jury sworn & Verdict for Defendant & Judgment accordingly.
Tay:
Sw:
We of the Jury find for the Defendant
Nehemh Carson Fman