Jane Slaughter v. George Cruse & Solomon Sparrow. Petition for Freedom & Affidavit of Edmund J. Lee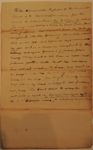 To the Honorable the Judes of the Circuit Court of the District of Columbia for the County of Alexandria. The Petition of Negroe Janney now held as a slave by George Cruse, & Soloman Sparrow. That your petitioner was imported from the State of Maryland, into the District of Columbia about three years ago, and before her said removal she was held as a slave in Maryland by a the certain said Soloman Sparrow of Prince Georges County, Maryland as his slave. Your said petitioner further states, that she has never been entered, according to Law, nor could she be brought into the District by those who brought her here, she therefore humbly conceives that she is by Law intitled to her freedom and prays this honb Court to allow her to institute a suit in forma pauperis agt the sad Thomas George Cruse the said Solomon Sparrow to establish her freedom.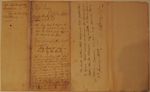 Negro Janney
v
Solomon Sparrow & Thomas George Gruse
Peto. & Affidavit
1806. July Term 8th day on the plaintiffs motion it is ordered that this Suit be set for trial at the end of the old Issues.
1807. April adjd. Session Contd.
July Term 10th day
Dismd. by the Court.
1807. November Term 33d day
In this case Edmd. J. Lee made a report of the Statement of facts & his Opinion thereupon & leave granted the said pltff. to commence a Suit in forma pauperis & E. J. Lee, is assd. as Counsel to prosecute the same & ordered that the pltff. remain in Custody of Marhsall until sd. Deft. enter into Bond wt. Security in $300 Codt. to have the sd. Janney forthcoming to Answ. the Judgt. of the Court in this case
1810. July Term 19th day Continued
November Term 11th day Discontinued
The facts within stated appeared to be supported by legal testimony & I am of opinion that the petitioner is intitled to her freedom. Given under my hand this 4th January 1808.
Edm J Lee