Sylvia v. George Coryell. Summons of Morris Worrell & Mrs. Worrell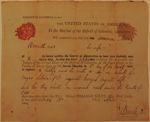 We command you that you take summon Morris Worrell and his wife if be found within the County of Alexandria in your said District, and to safely keep, so that you have appear bod before the honorable the Judges of the Circuit Court of the District of Columbia, at the Court House in the County of Alexandria, on the second Monday in 2d day of this Court next to answer to Testify and the truth to say on behalf of Negro Silvia plf. against George Coryell deft. and this they shall in nowise omit under the Penalty of £100.
And have then there this Writ. Witness William Kilty, Esq. Chief Judge of our said Court, this 13th day of April 1802.
G. Deneale Cl.