Loudon v. Charles Scott. Notes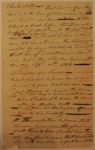 Charles Scott, Senior.
Brot Lonnon from Meryland into the town of Allexandria Aug 182 1802 and Lived in said town with him untill about a weak before Christmas as his property at which time he the Said Scott died. [crossed out] After which Lonnon Continued to Live in Said town till Some time in the Spring unmolested by Any. At which time Chars. Scott Son of C: Scott Senior Claimed him, And in this Situation remains till this Day Apl. 30th 1804.
Witnesses for Lennon.
Robert Brocket to prove wen he hired Lonnon & from what person.
Josa. Doens to prove the same and how Long he continued with him.
John Shepherd to prove the same after his Masters Death and when his Masters Son Claimed him as his property.
Mr. Thomas Butler to prove that Lonnon Came from Meryland and What time & who Claimed him then.
Wm. Woolford to prove that Charles Scott Jnr. Lived with him When he first Came to town.