Charles Scott v. Loudon. Mandate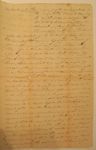 Whereas lately in the Circuit Court of the United States for the District of Columbia in the County of Alexandria before you or some of you, in a cause wherein Negro Loudon was Plaintiff and Charles Scott was Defendant, in a plea of Trespass &c, the said Negro Loudon by Judgment of said Circuit Court recovered against the said Charles Scott one cent damages by reason of the premises, as by the inspection of the Record & proceedings of the said Circuit Court which were brought into the Supreme Court of the United States by virtue of a writ of error according to the Act of Congress in such cases made & provided fully & at large appears; and whereas in the Term of February in the year of our Lord one thousand eight hundred and six the said cause came on to be heard before the said Supreme Court of the United States, and was argued by Counsel, on consideration whereof It was adjudged ordered & Decreed by the said Supreme Court, that the said Judgment of the said Circuit Court should be and the same was thereby reversed & annulled with costs; and it was further adjudged ordered & Decreed by the said Supreme Court that the said cause should be remanded to the said Circuit Court for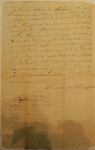 further proceedings; And Thereupon the said Supreme Court being willing that full and speedy Justice should be done to the parties, You therefore are hereby commanded that such further & other proceedings should be had in the premises, as according to right and Justice and the laws of the United States and agreeably to the Judgment order & Decree of the said Supreme Court aught to be had, the said writ of error notwithstanding; Witness the Honorable John Marshall Chief Justice this first Monday of February in the year of our Lord one thousand eight hundred and seven.
EB Caldwell Clk. Sup Ct. U.S.
| | |
| --- | --- |
| costs | $18.96 |
| pd by Defdt in error | 10.— |
| | 8.96 |
| Atts. fee | 20— |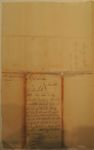 Negroe Loudon
v
Charles Scott
Mandate
1807. July Term 11th day
Mandate produced, & ord. to be redocketted, & set for trial at the end of the old Issues. 12th day in this case it is agreed that a General Commission may issue to take Depositions for either party to be directed to any Notary Publick or Justice of the Peace. 23d day Continued for defendant
November Term 26th day Continued.
1808. July Term 5th day
Agreed.
Sw.
Charles Scott
v
Negro Loudon
Mandate