Loudon v. Charles Scott. Petition for Freedom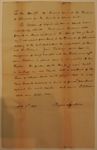 The Petition of Negroe Loudon a Black Man respectfully sheweth. That your Petitioner was formerly a Slave residing in the State of Maryland and was removed from thence to the District of Columbia contrary to the act prohibitting the importation of Slaves into this District. Your Petitioner saith that in consequence of being brought into this District as afd. your Petitioner is advisd that he is intitled to his Freedom. He further saith that he is now held in bondage by one Charles Scott a resident of the Town of Alexandria and prays that he may have leave to institute a suit in forma pauperis against his said master. And your Petitioner shall ever pray &c.
Negroe Loudon
July 6th 1804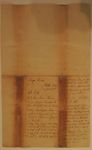 Negro Loudon
vs:
Chs. Scott
Petition to sue in forma pas.
1804 June Term, Thomas Swann Assigned Counsel to State and report case to Court
21st day. Case reported & leave granted to bring suit in forma pauperis & Thos. Swann assigned as Counsel.
22d day Ordered Deft. give Secy. in $600 to have the plt forthcoming to answer to Judgt. of the Court, & ordered in custody of the Marshal til bond is given in the Clerks Office
1804 November Term, On the plts Motion by Attorney it is ordered that an Issue be made up in this cause and the suit tried on friday next.
Decr. Nar: filed & [illegible] Gt. Jd.
1805 March adjd. Session: By Counsel Deds.[?] to Issue on Application of either party, directed to any two Magistrates of the County were the depos. are taken, notice of the time & place of taking depositions to be given to the party or Counsels
November Term, Jury sworn & Verd: for Plt. and assess his damages to one Cent. & Jdg:
Sw.
Jones